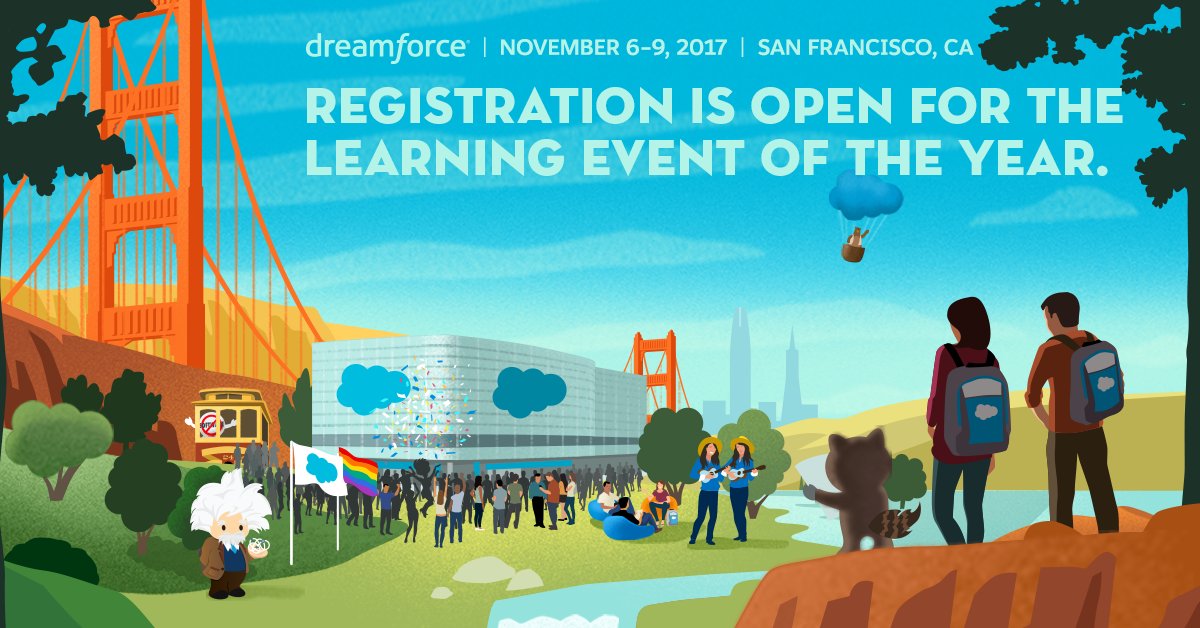 If feels as if yesterday that I wrote about my Dreamforce 2016 sessions. Hard to believe that more than a year has passed by in a flash and as I write this, most Salesforce enthusiasts all over the globe are packing their bags to make the trip to San Francisco! Although I attend a lot of conferences, Dreamforce holds a special place in my heart and I'm happy that this love story will be continuing for another year.
Like last year, it's going to a busy week ahead! Last year, I promised to myself to be more organised and better prepared for Dreamforce but the way things have turned out, I think I need to stop making promises. Here's my tentative schedule for DF'17 this year and I hope to see you/ bump into you at some of my sessions/ engagements.
I'm a big fan of design thinking and when Salesforce launched Lightning Design System, I, for one, believed that it's a difficult yet massive step in the right direction. Join me in this session on Monday (6th Nov) – 12 noon at the Frontier Theater at Moscone West to understand how you design interfaces that don't make your users think while implementing design thinking with SLDS.
2. Building App Cloud Mobile Extensions with Swift
This is an encore of the session I presented in 2016 as well as 2015 and one of the few iOS/ Swift centric sessions at the conference. I love presenting on this topic and I'm glad the Dreamforce Content team like it as well. So, if you are an iOS/ Swift enthusiast, this will be worth attending! It's on Tuesday (7th Nov) – 8:30 AM at the Frontier Theater at Moscone West. Mind you – Michelle Obama is presenting at 9 AM so you'll need to chose either between a hardcore development session or conversation with the ex-first lady of United States. I'm a big admirer of her myself but looks like our rendezvous will need to wait, at least for now.
3. Mini Hacks – Volunteer
I'm volunteering in the Mini Hacks basin in Developer Zone on Wednesday – 8th Nov from 10 AM to 1 PM. If you want to try out some mini hacks, win some cool swag or in general, just come by and say hello, you are most welcome!
My colleagues from Metacube will be presenting on how we as a Salesforce partner, enhance customer value and focus on key processes like Agile development, DevOps & UI/UX to continuously enhance product value proposition in Salesforce ecosystem. The session is on Tuesday 7th Nov from 12:30 PM in Partner Lodge at Hotel Park Central. While I'm not presenting, I'll be there to cheer for them and help answer any questions!
5. Partner Lodge
Apart from the above, I'll mostly be at the Metacube booth in the Partner Lodge at Park Central hotel every day. I've attended the partner webinars in the lead up to Dreamforce and I'm excited to see how the Partner Lodge experience shapes up this year!
Of course, there are a bunch of keynotes and MVP events which I'm looking forward to attending. I'm not much of a party animal but I do look forward to spending some quality time with my friends from within the developer community, fellow MVPs and speakers.
See you at Dreamforce 2017!!