Speaking at Dreamforce has been sort of an annual tradition for me for the last 7 years!  It was great fun presenting multiple sessions in 2017. This year, I wasn't sure if I'll be speaking as I had been asked to help out as a session owner helping other speakers.
As destiny would have it though, this will probably be my busiest Dreamforce as a speaker! I've been buried with the preparation workload of multiple sessions – so much so that I write this post on my flight to San Francisco with Dreamforce starting in less than 72 hours!
Read on to know more about my Dreamforce 2018 sessions!
Salesforce MVPs: Tap Into This Network of Salesforce Expertise and Inspiration
Kick off your#DF18 campaign with some inspiration! Meet me and fellow MVPs Amber Neill Boaz & Stacey Cogswell at 11 AM on Tuesday  in Community Campfire, Moscone West for our session 'Salesforce MVPs: Tap Into This Network of Salesforce Expertise and Inspiration'
2. Power of Us – Round Tables
Join me as I lead a round-table discussion on 'Building a Center of Excellence' Wednesday, September 26, 7:45-8:40 AM, Westin St. Francis, Union Square.
Join in for an engaging discussion on various aspects of building a .org Center of Excellence. The session is already over capacity with a waitlist exceeding 200 people and I can't be more excited to be a part of this one!
3. Level Up Your Skills: Going from Good to Great as a Salesforce Developer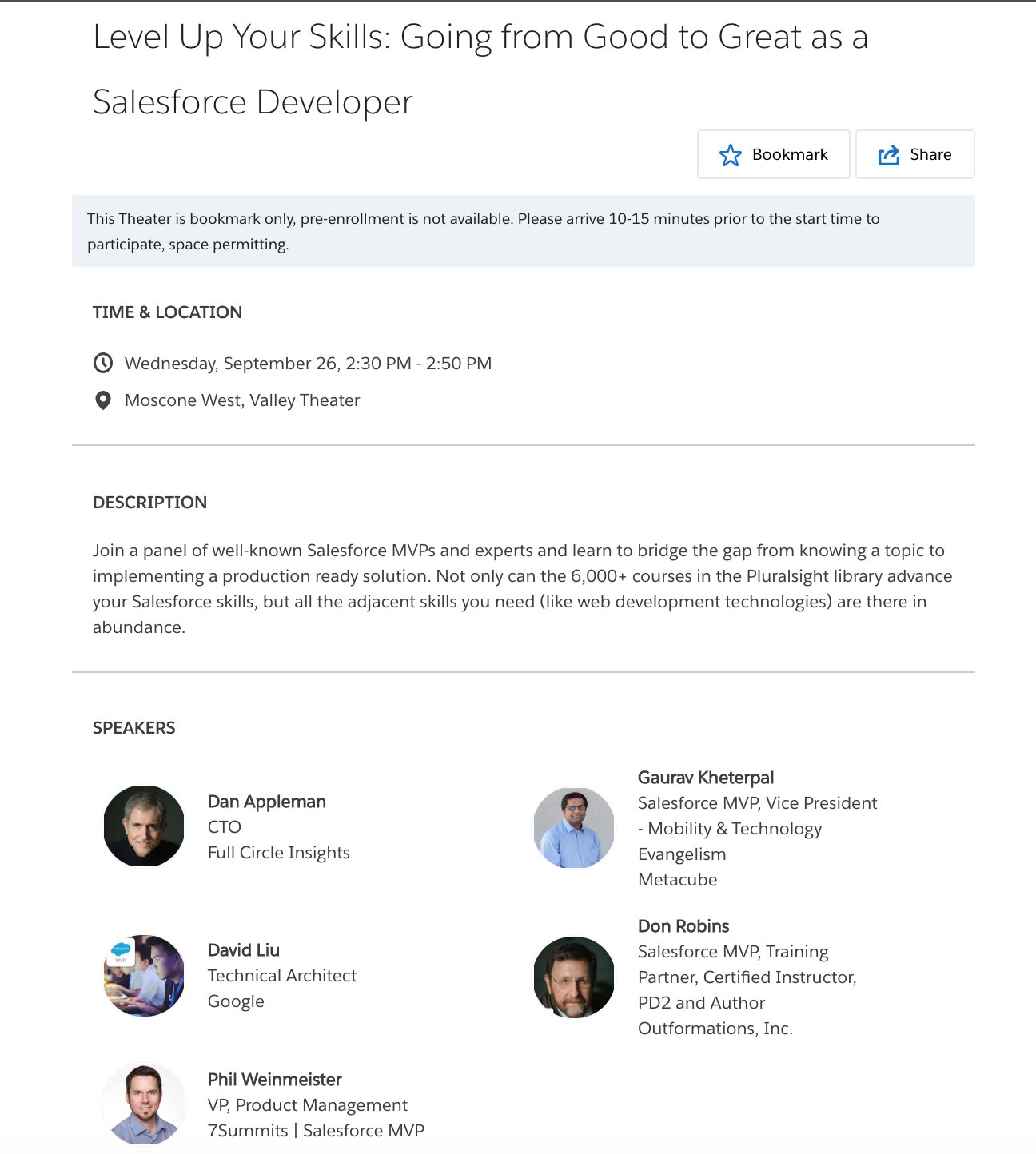 Wednesday, September 26, 2:30 PM – 2:50 PM Moscone West, Valley Theater – Join a session by Pluralsight authors (Yours truly, David K. Liu, Dan Appleman, Phil Weinmeister & Don Robins) on various aspects of the Salesforce learning journey
4. Salesforce Meets Avengers – Marvel API Integration
Wednesday, September 26, 9:30 AM – 9:50 AM Moscone West, Valley Theater
Join in if you are curious about Salesforce mobile integrations, a Marvel fan or both! This is one of my favourite topics and be sure to join in the fun on this light-hearted session on mobile integrations for Salesforce! There will be you, there will be me & there will be superheroes – lots of them!
5. Demystifying Mobile-First eCommerce Sites with Commerce Cloud SFRA
Thursday, September 27, 10:30 AM – 10:50 AM Moscone West, Developer Theater
Join in if you are a Commerce Cloud developer and want to explore why & how to migrate your app to the new Storefront Reference Architecture (SFRA). I'm a Certified Commerce Cloud instructor and SFRA is an exciting development which I'm looking forward to talk about!
6. Lightning Component Development Hands-on Workshop
Interested in learning Lightning Component development? Join this 2.5 hour workshop by one of the most respected instructors in the Salesforce ecosystem – Simon Connock on Friday morning!
I'm NOT presenting this and I'll be helping out as an expert!
6. Metacube Booths – Partner Lodge & Expo
Apart from the above, I'll mostly be at the Metacube booth in the Partner Lodge at Park Central hotel or in the Expo every day. We've our biggest and strongest contingent this year and I'm looking forward to spending time with my colleagues at this extravaganza!
I'll try to sneak into some keynotes and MVP events as and when time permits. I'm not much of a party animal but I do look forward to spending some quality time with my friends from within the developer community, fellow MVPs and speakers.
Can't wait to meet everybody this week!