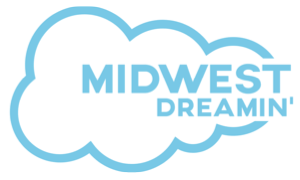 I am thrilled to share that I'll be speaking at Midwest Dreamin' 19 in August this year. I will be talking about Commerce Cloud – one of my biggest focus areas over the last two years.
Although I've presented at several Salesforce events over the years including Dreamforce, Salesforce World Tour, TrailheaDX and community events all over the world, this will be my first ever speaking stint at a Salesforce "community event" in the US & to say that I'm excited would be an understatement!
There are several reasons on why I've always wanted to be a part of Midwest Dreamin and the biggest one being the amazing core team they have. I've known and interacted with Eric Dreshfield (aka the Bacon guy) for several years and he continues to be one of my inspirations in the Salesforce community.
And of course, there are other fellow MVPs and some of the most respectable names in the Midwest Dreamin core team!
Also, I've travelled to a number of cities in the US but Chicago has somehow eluded me so far. I'm glad that I finally get to travel to the Windy city and meet the Salesforce community there!
If you're intrigued to know more about Commerce Cloud development, come & join my session at Midwest Dreamin 2019.
Godspeed & keep learning!