Over the years, Salesforce has championed the philosophy of 'No Code, Low Code, High Code'. The core idea is that you do not need to write code for anything and everything – and the fact that you should NOT write code where it's NOT needed.
Integration has traditionally been an area where APIs are the norm and developers are the king makers. The landscape has changed with several no-code & low-code players popping up in the last few years. A couple of months back, Mulesoft introduced Composer – a new platform to do integrations via clicks NOT code and I was intrigued.
I had the opportunity to learn more about Composer in the last few weeks and this post is all about my perspective on Mulesoft's latest offering. If you are curious about Mulesoft Composer as well, read on!
First things first, this is NOT a tutorial on Mulesoft Composer. If you are interested in learning more, I suggest you check out the documentation here. I also recommend watching this video – "Enable no code integrations — all with MuleSoft Composer" which does a great job of explaining everything end to end. Given my integration experience, this post is more about how I see Mulesoft Composer and it's associated value proposition in the broader Salesforce ecosystem.
What is Mulesoft Composer?
Mulesoft defines Composer as a new offering which can "Connect apps and data to Salesforce quickly and easily with clicks, not code — all inside of the Salesforce UI."
With a typical architect mentality, let's dissect that into the key phrases
-Connect to Salesforce
-Clicks NOT Code
-All Inside Salesforce UI
The key thing here is that it's all within Salesforce UI or "Native to Salesforce" or "On Platform" as we often call it in Salesforce architect lingo. That's a massive advantage compared to using a 3rd party integration solution because it eliminates the nuances of "Off Platform" considerations.
What's New?
Most Mulesoft integration capabilities till date have been based on API-first or API-led connectivity approach so this does represent a paradigm shift of sorts. In general, there is a lot of emphasis within Salesforce on the no-code and low-code philosophy so this isn't entirely surprising.
Several leading Cloud providers have tried their hand at providing solutions which use an API driven approach to connect to multiple systems – Jitterbit is one such company which has mastered this pattern.
No code and low code are not a new concept either. There have been several companies like Zapier which have championed the 'Any Source, Any Sink' connector based approach.
However, when it comes to enterprise-scale and doing things on-platform, it's a different challenge. In that sense, the notion of having an offering such as Mulesoft Composer seems highly compelling.
How do you install Mulesoft Composer?
There's a very helpful Trailhead module which takes the donkey word out of the installation. Please NOTE that Mulesoft Composer is NOT available on Trailhead Playgrounds so I'd recommend reaching out to your Mulesoft Partner Manager to get an instance to play around.
It does require you to pre-authorise users so they can access Mulesoft Composers. Again, everything is straight forward and mentioned in the referenced Trailhead module.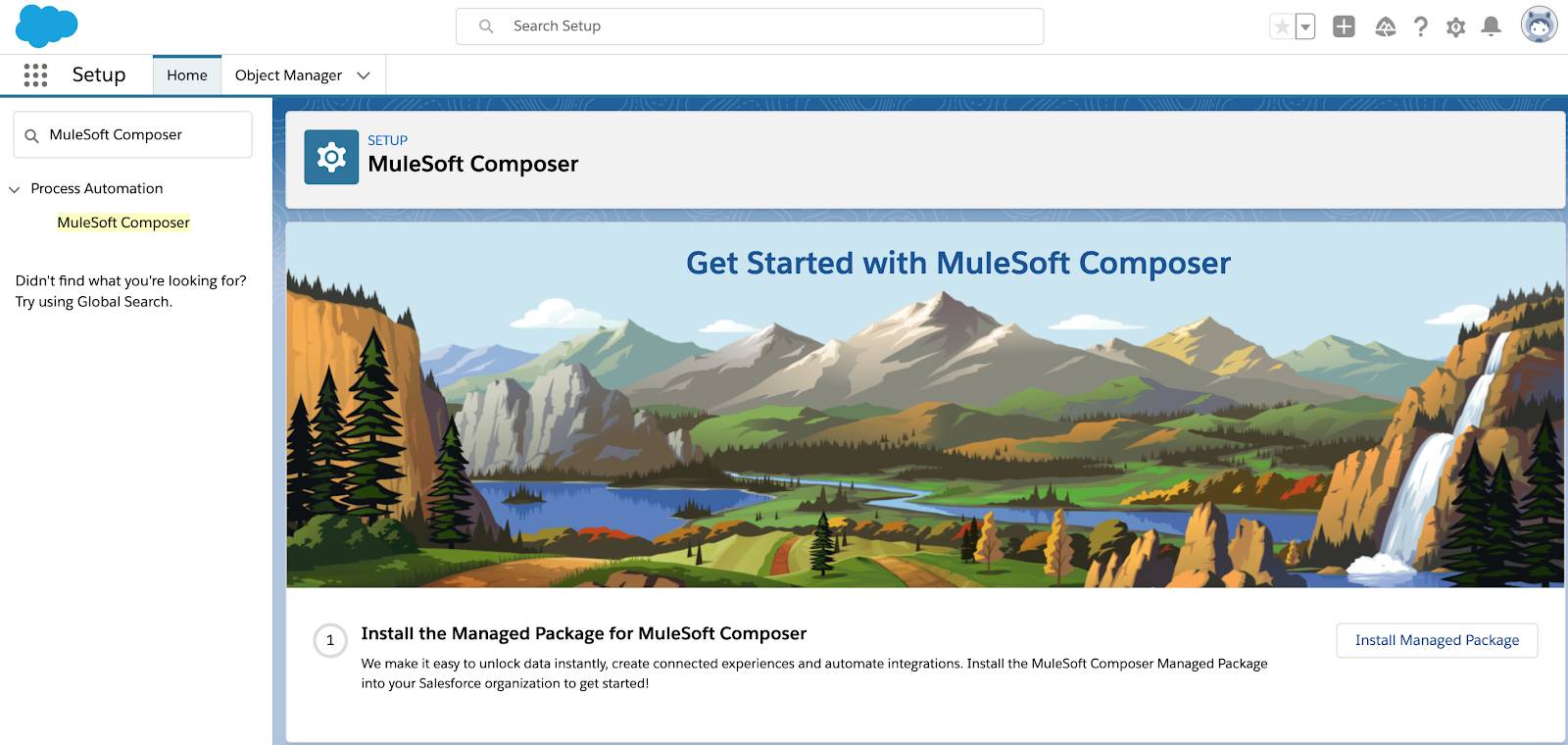 Sounds Familiar, Doesn't It?
If you have been a Salesforce Admin, Developer or Architect, you will realise that Salesforce has a number of other offerings which emulate this approach of Clicks over Code. Tools such as Flow Builder, Process Builder, Workflow rules, Report Builder, App Builder all follow the declarative development paradigm.
Once you have Mulesoft Composer installed, you can start creating your integration flows. Here is a quick primer on how to get started with your first Composer flow.
The True Power of Mulesoft Composer
For any integration tool to be successful, one of the most important things is the Total Addressable Market (also called TAM). Simply put, the more the number of systems you can integrate with, the more the number of use cases that the platform can be used. In that sense, Composer has really good coverage both within and outside the Salesforce ecosystem.
I've tried a few different integrations so far and everything worked well. Of course, my experiments were with small datasets and based on very simplistic use cases.
How much does it cost?
All said and done about the capabilities, what about the Mulesoft Composer pricing? Like any other enterprise-grade integration tool, Mulesoft Composer isn't exactly cheap but considering the overall value proposition and the exorbitant costs of API-based integration in some cases, it's well worth exploring further for your use cases. The pricing for various editions is available here.
Wrap up
Watch this space for my follow up adventures with Mulesoft Composer – more to come soon! If you have used or learnt about Mulesoft Composer, leave your feedback/ comments below.