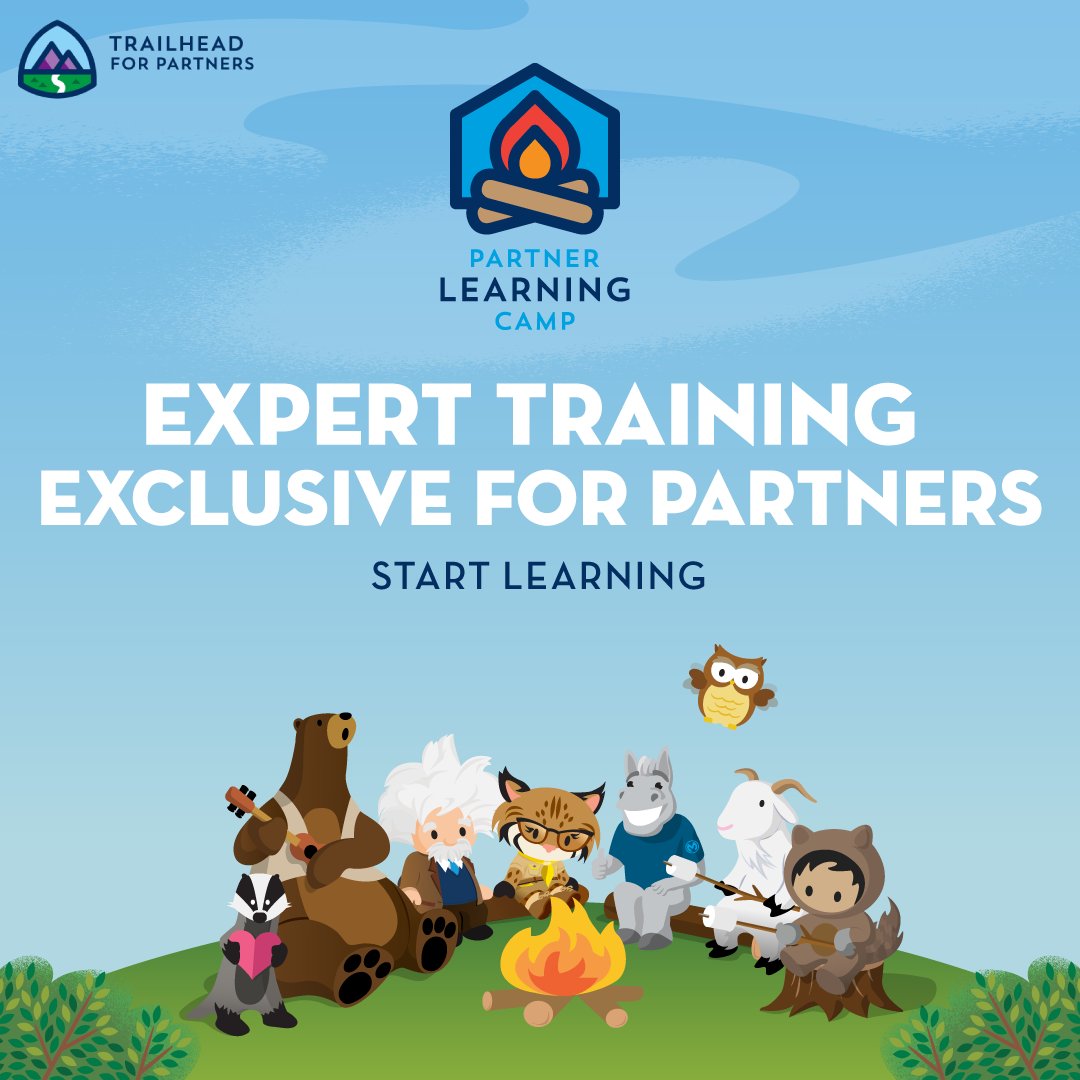 To say that the last few months in the Salesforce Partner ecosystem have been really exciting, would be an understatement of sorts. I believe that in general, Salesforce has done a phenomenal job on enablement and training over the years and recently, it has just stepped up the game even further with Partner Learning Camp (PLC) and the launch of new Salesforce Accredited Professional (AP) exams.
While there's a good amount of information published around PLC and APs, I get a lot of questions from people on Linkedin & Twitter around the same – so here's an attempt to explain these from a fellow Salesforce Partner Community member perspective.
Read on if you are eager to know more. I'll obviously be respecting confidentiality and sharing whatever is publicly available information.
What exactly is PLC?
PLC is an enablement website focused entirely for the Salesforce Partner community. I've leveraged PLC a lot in the past and it's a great source for high-quality Salesforce content in specialised areas. If you're a Salesforce partner, you know that Salesforce Partner Enablement team used to run a lot of academy and fast path workshops in the past. Those were fantastic resources but it wasn't a scalable model as you would typically have to limit the number of participants in a class to a manageable audience (few hundreds or thousands in some cases).
The objective of PLC, as I understood, is to take that high quality fast path content and expose it in a self-service model. You go to PLC, enroll for a course and complete it. This helps you prepare for a corresponding credential which is called Accredited Professional (AP).
What kind of courses are there in PLC?
To give due credit, the Partner Enablement team at Salesforce has done a great job of producing some amazing content in PLC. My first brush with PLC was when I needed to look at the Fast Path content for some specific certifications. And then, when I decided to focus on the Solution Architect path, I spent a lot of time on PLC doing the B2C and B2B Solution Architect courses.
Does it replace Trailhead ? What's the difference?
This is the question most people ask – how is PLC similar or different than Trailhead. PLC is not meant to replace Trailhead. In fact, if you do a course on PLC, it will likely contain some Trailhead modules that you will need to complete. The difference is best summarised by this slide.
I've been using PLC for a while now and I've advocated it in some of my recent sessions including London's Calling and TrailheaDX
Video from my London's Calling 2021 session below
Video from my TrailheaDX 2021 session can be found here (Registration required). This is the slide where I refer PLC as one of my secret cert weapons.
This has served me well for a number of certification exams in the past and I'm looking forward to using it for the APs as well.
What are APs? How are they different from Certifications?
Salesforce already has an established Certification program so why is there then a need for APs – another set of credentials? Broadly speaking, there are two kinds of Salsforce career opportunities – Partners vs. Customers and while some roles are common to both, there are other roles which are more prevalent in the Partner ecosystem and vice-versa.
APs fill that gap for Consulting Partners to demonstrate SME knowledge in a certain area. To give an example, for understanding – there's a Einstein Analytics (now called Tableau CRM) certification which has been around for a while. While it touches on areas like Einstein Discovery, Prediction Builder and other components highly, it does not go in a lot of detail. In that sense, APs fill that gap by having separate credentials for Einstein Discovery, Prediction Builder etc. APs are a lot more granular in that sense.
Also, while Heroku has an architect cert – there was no publicly available credential for Heroku developers. Enter APs – you now have a Heroku Developer credential focused on developers (not architects).
What APs are available?
This page lists all available APs as well as the upcoming ones later this year. I'm providing the list here for a quick reference as well.
AP Listing from Salesforce Partner Community
How much does an AP exam cost?
An AP exam costs $150. However, Salesforce has been generous enough to reduce the cost to $75 till December, 2021. I feel it's a good move and will drive adoption of APs.
Why I'm excited about PLC & APs?
There are multiple reasons why I'm excited about PLC and APs. Salesforce published a post around the same sometime back and I can testify that it accelerates conceptual learning.
And as mentioned earlier, the other advantage is to specialise in specific aspects of a particular solution (E.g. Einstein Discovery, Prediction Builder etc.)
More on Partner Learning Camp
If you want to read up more on why PLC is worth exploring, read this detailed report by Valoir (publicly available).
Some courses on PLC are really good. I had a great time preparing for the B2B Solution Architect credential on PLC and I called it out on Twitter a while back . All credit to Shoby Abdi for putting together this "Gold mine of content" – well done sir, you have set the benchmark for all other PLC courses to follow!
Current Problems with PLC
While I put my weight firmly behind PLC and APs, this isn't just cheerleading or going gung-ho about it. Nor have I been asked by Salesforce or anyone else to do so. PLC is new and in the process of being refined. I've noticed a few current problems with PLC and I'm sure the Salesforce Partner team will fix them in the coming weeks.
Trailhead Sync – This is supposed to happen every 24 hours but doesn't seem fully stable. I've had instances where I completed a relevant module in Trailhead but the corresponding course in PLC wasn't marked fixed. This went on for a few days. The sync seems better now but isn't 100% still – heads up, you may see a delay in the sync.
Search – It's not the most intuitive interface to search for the course that you want to do.
Language Preference – It should allow me to show courses only in my preferred language – I see Japanese, German and a few other language courses too and at the moment, there's no way to filter those out
Modules Not Getting Marked Complete – Sometimes, you have to refresh the page to see it getting marked as complete. Some sort of a caching issue – definitely fixable
I'm enrolled in a lot of courses (500+) and completed 50+ of them so it's possible that I see bugs which others with lesser enrolments don't see. Hey, but you always need someone to test out these edge scenarios ¯\_(ツ)_/¯
Putting it all together
All in all, this ties back to the Salesforce Economy and the pivotal role played by the Salesforce partner ecosystem to drive that exponential growth. To quote an IDC research report from 2019, it states
The Salesforce Economic Impact: 4.2 Million New Jobs,
$1.2 Trillion of New Business Revenues from 2019 to 2024
The statistics are mind boggling and I've no doubt that Partners will drive a lot of this growth in the coming years.
In that context, PLC and APs define a new era of Partner Enablement within the Salesforce ecosystem.
Stay tuned for Part 2 where I'll talk about the exam process for APs as well as how do you tackle courses in PLC.
Till then, Godspeed & Keep learning!
Disclaimer – All images referenced in this post are taken from Salesforce website and are publicly available assets