Yesterday, I had the honour and pleasure of presenting at Pakistan Dreamin – Pakistan's first ever Salesforce community conference. And to say, that I'm very impressed with what a show that Pak Dreamin team has put on – would be an understatement. So, I thought I'll share my experience via a blog post. Read on to know more.
An Amazing Speaker Lineup!
The organisers did a fabulous job of putting together an amazing speaker line up and I was honoured to be a part of the pack. There were speakers from all over the world and catering to various audiences – admins, developers, functional experts, architects and more. In short, there were sessions for everyone and an opportunity for all of us to learn from each other.
I attended a number of sessions from speakers from Pakistan and was pleasantly surprised by how knowledgable they are and their expertise was fully evident in their sessions. It was great to see a large speaker contingent from India – I always say that whatever we do is for the love of Salesforce and that transcends geographies, religions and all other boundaries.
Peter Chittum Keynote
It doesn't get any better than starting off a Salesforce community event with a keynote by none other than Peter Chittum – phenomenal knowledge of the Salesforce platform and someone who's been around for more than a decade. I've met Peter several times at Dreamforce and at the Salesforce Tower in London and he's been a great friend & support for me and for several others in the Salesforce Developer community over the years.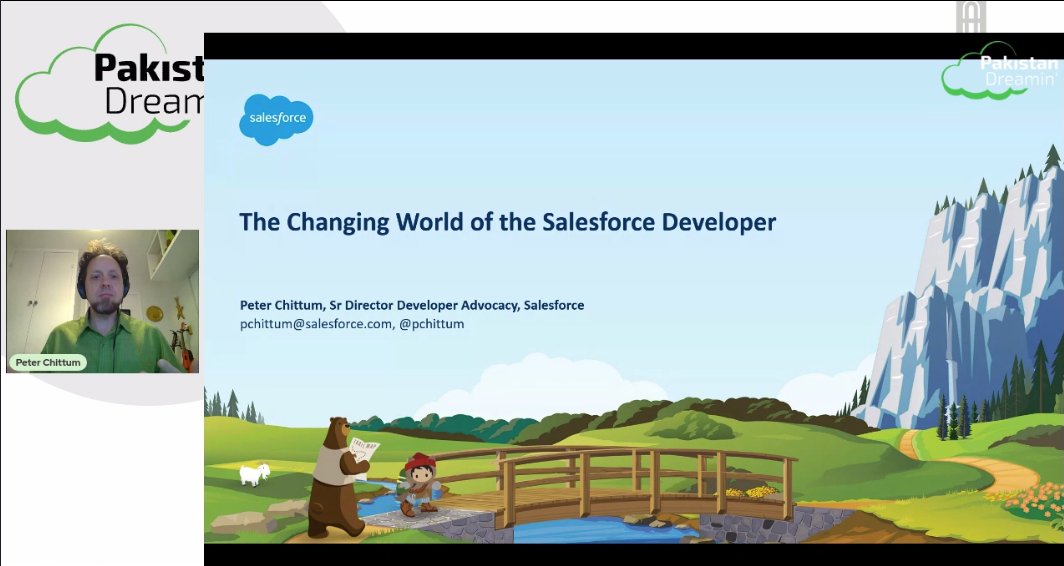 Sessions
It was a well planned agenda and the timing was conducive so that people from all timezones – ANZ, Asia, EU and AMER could join at least for a few hours. I presented right after the keynote and once I was done with my session, I spent time attending some really interesting sessions across different tracks. You can find the overall schedule here.
Each session was assigned a moderator who introduced the speaker and helped with the Q&A. Janet Elliott was the assigned session moderator for my session and she did a great job helping manage my session. Thank you Janet!
I'm glad that my session was well received and it's always encouraging to see some positive feedback.
Thank you Organisers, Volunteers & Sponsors!
I've been on the other side for a number of Community Events and as they say It takes a village to make an event successful. I'm thankful to the organisers – Hamza, Qurat and Badar for all their efforts to make this event successful. They did a remarkable job in keeping everything organised – right from the call for speakers, scheduling, speaker milestones, training etc.
And of course, to the unsung heroes – the moderators and volunteers who put in weeks and months of efforts and then run the show to ensure that everything goes smoothly.
No event can be successful without the support of sponsors and it was refreshing to see some big names come forward in support of the Pakistan Dreamin event.
Hopin
The Hopin platform worked great and the event experience was seamless and smooth both for attendees and speakers. I've explored a number of other online event platforms in the past and I must say, I continue to be impressed with how quickly Hopin is adapting it's platform for the new normal. To the Hopin team, if you are reading this – well done! I know you're in a business where you get a lot of flack when things go wrong and nobody bothers when everything is going well. You were crucial to making this event successful!
Overall, it was a memorable experience for me as a speaker as well as an attendee. I wish the Pakistan Salesforce community the very best for the future and I'm sure that Pakistan Dreamin has served as the fuel for a new Salesforce community to rise and shine and make it's presence felt on the global scale.
Thank you & Best Wishes from across the border!