Year 2021 will be remembered as a challenging year, an unusual year as well as a year when our lives changed forever with a new way of living and working. There were times when it seemed like time was barely moving and other occasions where the clock was rapidly ticking along – I can't believe we are already down to the last few weeks of December as I write this.
I have sort of an annual tradition to write about 'My Salesforce Year in Review' – I did that in 2015 as well as in 2016. I did make attempts in the remaining years during 2017-2020 but call it the writer's block, procrastination, year end exhaustion, a busy work schedule, or just sheer laziness, those posts never left the draft folder. I'm starting early this year with a determination to get this posted before the end of the year.
It's been a busy year, and as they say – busy is good. I had to think long and hard to recollect everything that's gone on in the last 12 months, and as I reflect back on it, my heart is filled with gratitude and joy. Here we go!
Virtual Community Events/ Conferences
It was a blessing in disguise of sorts (looking at the positives) that most community events had to go virtual in 2021. While virtual events still don't match in-person events for engagement and intensity, the flip side is that it allows people from all over the world to join and be a part of events that are otherwise not feasible due to geographical barriers. I had a great time attending and speaking at several events through out the year. Here are some of those memories
Cactusforce
My year kicked off with the amazing Cactusforce conference in January. Inspired by the Extracurricular from TrailheaDX 2019 – this is a hardcore hands-on event for devs, admins & architects, no surprise that the tag line says – "More code, Less fluff". I had heard good reviews about Cactusforce from last year and Steve & Marisa (along with rest of their team) are a dream team to organise any event.
I was fortunate to be a part of The Extracurricular in 2019 in San Francisco and I was thrilled to be accepted to speak at Cactusforce 2021. I presented on the newest Salesforce Architect credential – "Salesforce B2C Architect – There's a New Pyramid In Town! " and it was a great experience sharing my experience with the virtual audience.
London's Calling
Next up was one of my favourite conferences – London's Calling. I had presented there in 2017 and 2019 and the visa Gods weren't kind enough in 2018. I presented in 2017 on 'Salesforce1 Meets Avengers' – a fun Salesforce integration using Marvel API and in 2019, I presented on Commerce Cloud. In 2021, I picked up where I had left off at Cactusforce to evangelise the B2C Solution Architect credential at London's Calling.
You can see my session recording here.
Albanian Dreamin
Next up was Albanian Dreamin – a relatively new Salesforce community with a brand new event and I was honoured to be a keynote speaker for this event. It was a pleasant surprise to see so much Salesforce talent in the Albanian community as well as speakers from all over the world coming together to make this a successful event.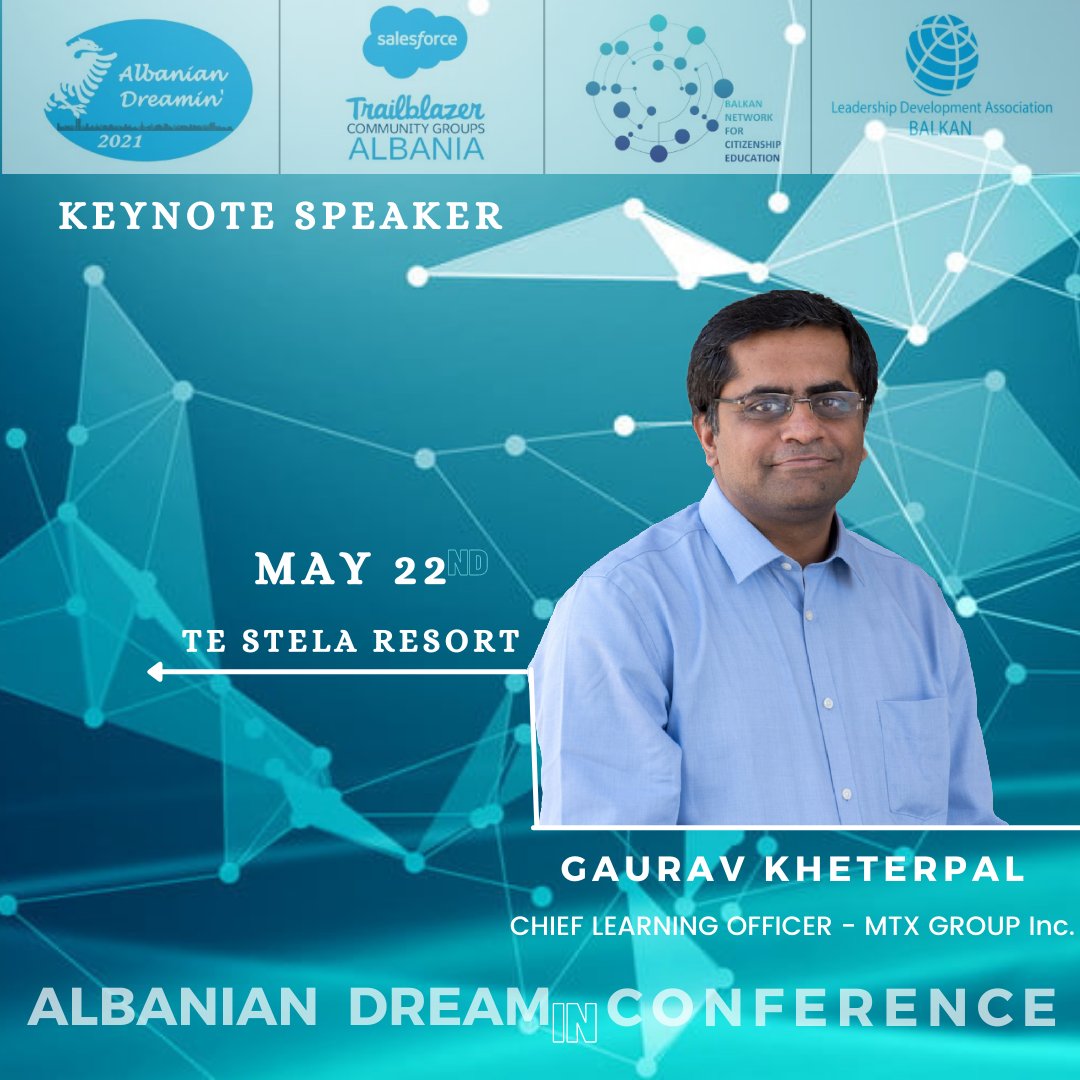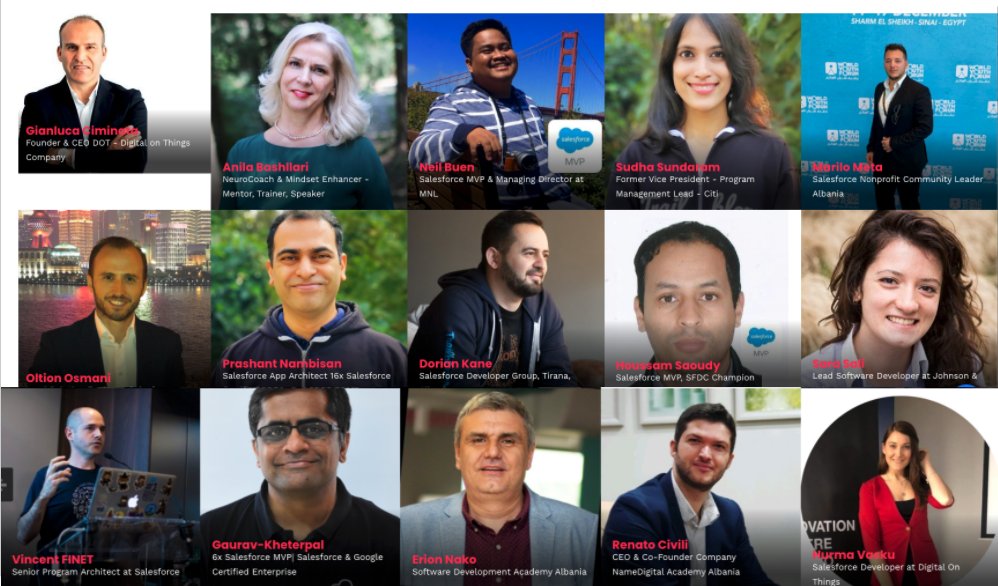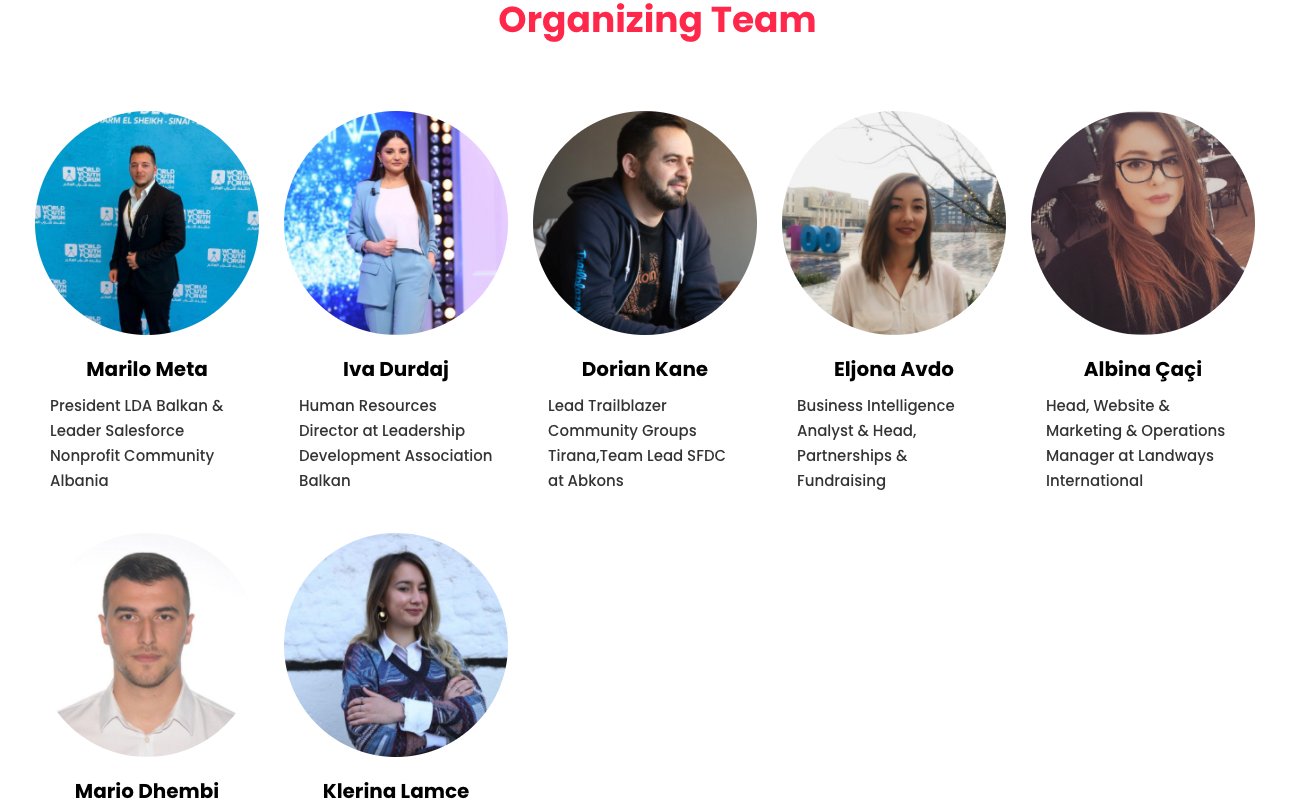 One of the best things about the Salesforce community is that it's a low-entry barrier ecosystem and I've seen several countries come up on the Salesforce map in the last few years. A huge thanks to the organising team, you've made a great start in 2021 and I'm sure there are bigger things lined up for 2022 and beyond. Thanks once again Mario & team!
TrailheaDX 2021
I've a strong association with TrailheaDX – I've presented multiple sessions and workshops in the past editions, both in India and USA. Although presenting virtually is a very different experience, I am glad I got a chance to present at TDX'21 to talk about my certification journey.
I'm hoping that TDX'22 will be an in-person event and I eagerly look forward to the prospect of being there in person.
Pakistan Dreamin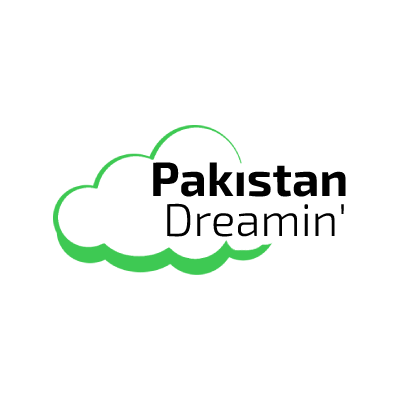 Another new community that rose in 2021 was across the border in Pakistan and I was glad to be included in their first-ever 'Pakistan Dreamin' event. They put together a splendid show with an absolutely amazing speaker line up, an awesome keynote by Peter Chittum and the event was a great success. I spoke about my learning journey and shared some tips for the audience – it was well received.
I wrote at length about my experience of Pakistan Dreamin here. I took a fair bit of flack from haters, I was trolled and even threatened not to participate in the event due to the sensitive border situation between India and Pakistan. There are some things that you do from the heart, and when you do so – nothing else matters. I went ahead and spoke at the event as well as did my bit to help promote the event.
The three organisers – Qurat, Hamza and Badar did a fabulous job and deserve all the appreciation for pulling off a great event.
SEA Dreamin
South East Asia is well and truly a prominent hub in the Salesforce ecosystem and it's so appropriate that the region now has its own Dreamin event – SEA Dreamin. By this time, Salesforce had already introduced the B2B Solution Architect program so I delivered a session around both B2C & B2B tracks.

Several prominent leaders from various South Eastern countries came together to make this event a reality and it was great to be a part of history being made with their first ever event.
100 Days Of Trailhead
100 Days of Trailhead is a great learning initiative aimed at promoting continuous learning in the Salesforce ecosystem. They do a great job in serving high-quality Salesforce content on their YouTube channel with experts pitching in on several areas.
You can view my video on B2C Solution Architecture below.
Thank you Jessica, Rachel and Coraliz for the opportunity and doing a great job running this learning program.
Kolkata Developer Group – JavaScript Developer Cert Prep Workshop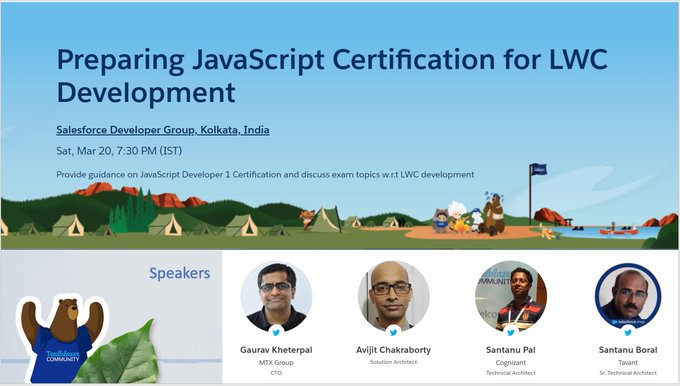 I was invited by my good friend and fellow Salesforce MVP – Santanu Boral to join in on a cert prep workshop for JavaScript Developer1 credential organised by Kolkata Salesforce Developer Group.
Santanu is one of the most knowledgable Salesforce MVPs and has done an incredible job leading the Kolkata community for several years.
Here's the video recording of this session if you are preparing for the JS Developer credential.
Salesforce Fundamentals Workshops
This is a great initiative that Salesforce runs across all regions for new entrants in the Salesforce ecosystem. In APAC, this is run by the amazing Adrian Tiong and I had a great time teaming up with him to deliver a few sessions.
It was great to team up with several people from Salesforce and help thousands of attendees take their first steps towards successful Salesforce careers.
Trailblazer Mentorship
Salesforce runs this amazing program to match mentors and mentees to help new entrants in the Salesforce ecosystem. It's a very well designed program with measurable milestones which ensures good value for mentees as well as mentors.
I took on a mentor role for a batch with my fellow Salesforce MVP – Amit Singh and we worked with 3 mentees in our batch – Mridula, Rohan and Sherlin. It was a great experience contributing to these mentees growth and watching them go from strength to strength.
Mulesoft Mentor
In July, I was officially inducted as a "Mulesoft Mentor". I've had an interesting journey on Mulesoft and although I don't actively work on it on a day to day basis, integration is one area which always fascinates me in terms of how to connect disparate systems.
I'm obviously excited to join such an elite group of Mulesoft experts and I've tried using that platform to step up my contributions to the Mulesoft community. One of my focus areas for this year is to explore Mulesoft Composer in more detail, you can read my earlier blog post on Composer here.
Salesforce for Students Kickoff Session

There are many unsung heroes in the Salesforce ecosystem and Sagar Pareek is one of them. He runs this amazing 'Salesforce for Students' program each year where he selects a group of students and personally mentors them. There have been several success stories from his program in the past and I'm sure that several more are on the way.
It was my honour to join hands with him and kickoff the 2021 batch for his Salesforce for Students initiative.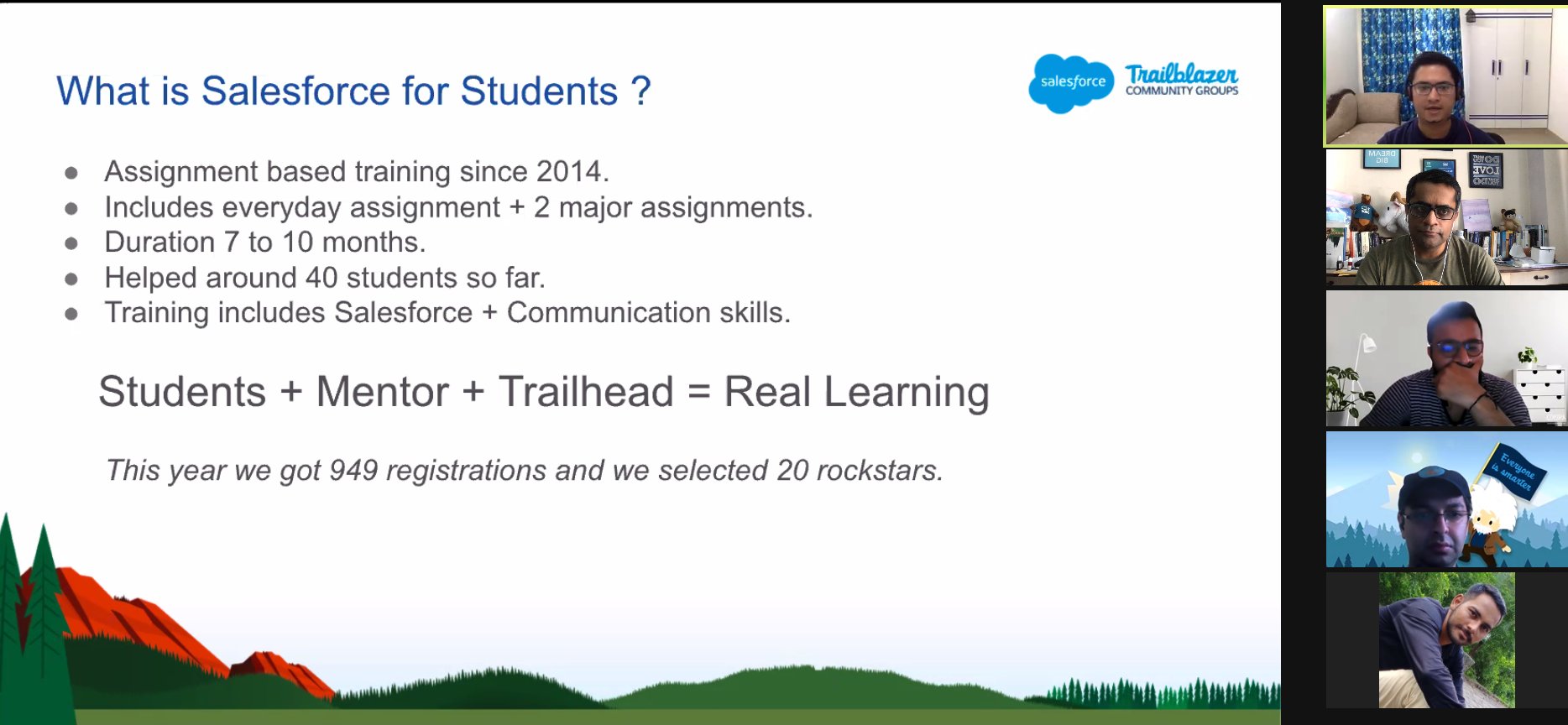 Superbadge Super Hero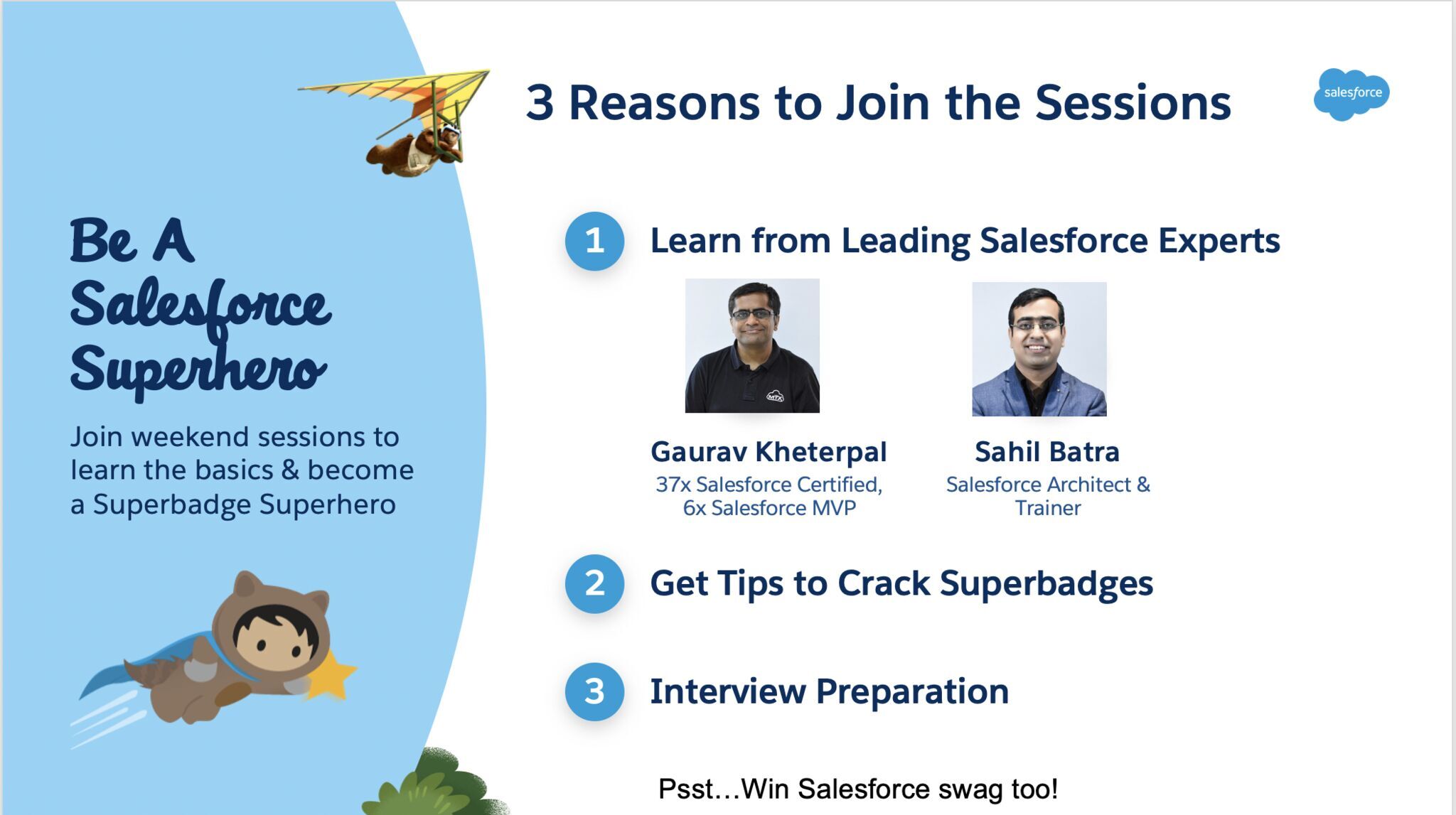 Salesforce has a lot of emphasis on student programs and I was very fortunate to be a part of one such program – Superbdage Superhero. This initiative was led by Bhanu Dasgupta and Renita Ferreira and saw 700+ students across engineering colleges in India join multiple sessions over 12 weeks to learn the basics of Salesforce administration and development.
I could not have done it without the help of Sahil Batra who is among the best Salesforce trainers I've ever met. I can't wait to read about the success stories coming out of this program in the coming weeks and months.
Leader Camp 2021
It was great to participate in the "Leader Camp 2021" – an exclusive event for all Salesforce Community Group Leaders. I got a chance to present my thoughts on a leadership panel for hybrid events. There were several other amazing sessions and I thoroughly enjoyed the event.
It will be very interesting to see how groups all over the world will balance online, offline and hybrid events.
Salesforce Architects In The Making (SAIMA)
There were a number of sessions run by the amazing SAIMA group through the year and it was great to be a part of it. The group was started by Johann Furmann with the sole objective of helping Salesforce architects collaborate and learn from each other.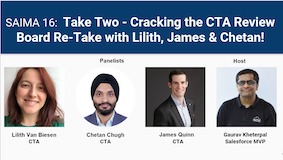 There were so many amazing SAIMA sessions throughout the year. It was a conscious decision to hand over the SAIMA leadership to Lilith, Meera and Neha at the start of 2021 and they did a fabulous job through out the year.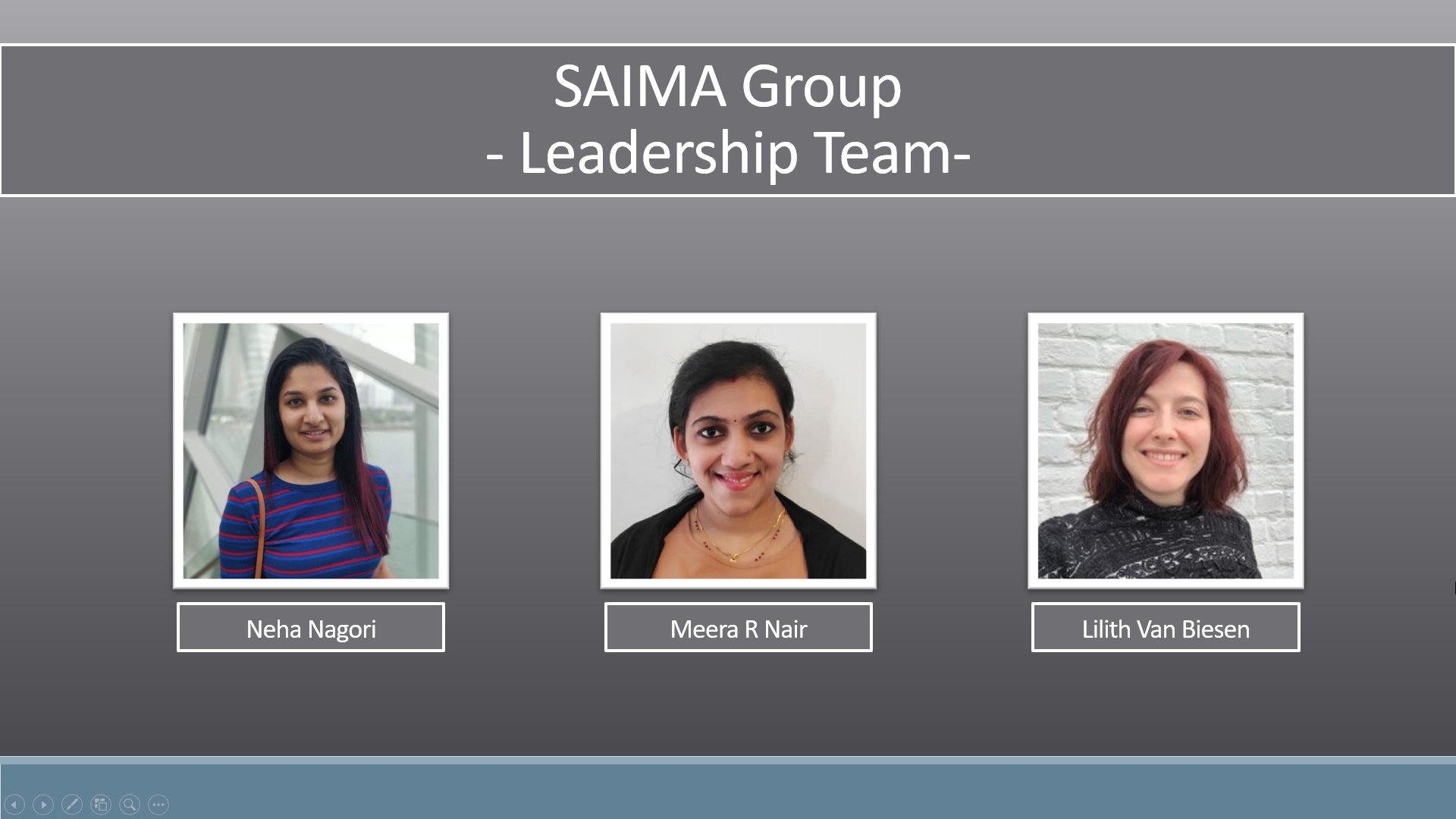 I took on the hosting duties for our last event of the year featuring three newly minted CTAs and here's the recording if you want to catch a dose of inspiration.
Salesforce Solution Architect Program
The Salesforce Solution Architect program was one of the highlights for me for 2021. I was among the first few people globally to clear both the B2C and B2B Solution architect certs and it was a fantastic journey going through these credentials.
Salesforce put in their A+ team to build these out and I've no doubt that these two certs will be among the most sought after credentials in 2022 in the Salesforce ecosystem.
I got a chance to work with some of the best Salesforce Solution architects in the ecosystem as we worked hand in hand with Salesforce to shape these credentials. I got invited to Salesforce Solution Architect Office Hours by Shoby Abdi & to Kerry Townsend's B2C Solution Architect Study Group to share my overall experience.
My Own Learning Journey
My learning journey continued throughout the year. I started off with a conscious effort to learn Vlocity and prepared for cleared the OmniStudio Consultant, OmniStudio Developer and the Salesforce Industries CPQ Developer credentials.
Late last year, I had set a target for myself to learn Vlocity in 2021 and I was happy to stick to the plan.
Next up, I prepared for appeared for the Salesforce UX Consultant credential. This was a long gap which Salesforce filled by introducing this much-needed credentials for UX professionals.
I've a decent background in Design Thinking so that helped me prepare well. If you are preparing for this credential, check out my blog post here.
I then moved on to Education Cloud Consultant – a credential that has eluded me several times in the last few years with multiple failed attempts.
2019 – FAIL
2020 – FAIL
Jan 2021 – FAIL
May 2021 – FAIL
Sep 2021 – PASS
This credential taught me a lesson that no matter how much you knowledge you have, if you don't study hard – you'll probably end up on the wrong side of the results. It was a good year overall from a learning perspective and I'm content with where I've ended.
I also took time to renew all my Mulesoft certs, flunked a couple of the first attempt but studied again and passed.
Salesforce Partner Ecosystem Equality Advisory Board
I was honoured to join the Ecosystem Equality Partner Advisory Board (now called Partner Diversity Council). We've met throughout the year and there's been a lot of work done on a number of partner diversity initiatives.
I'm looking forward to these initiatives being rolled out in the coming weeks. Thanks once again Minea Moore for this opportunity.
Exam Councils
I am a lifelong learner and I'm thankful for all the opportunities that come my way to learning experience better for others. I got an opportunity to be a part of multiple exam councils working with some of the best minds in the Salesforce ecosystem to shape up a number of credentials.
Accredited Professional Exams/ Partner Learning Camp
Salesforce stepped up the learning game for it's partners in 2021 with the introduction of Partner Learning Camp and new credentials called Accredited Professional exams.
I was an early adopter on PLC & APs and published a blog post educating the community about the relevance of APs. I followed it up with another blog post with a deeper dive on PLC.
I had a great time on PLC completing over 130 courses and passing 15 exams including several betas over a period of eight months. I plan to continue my PLC & AP journey in 2022 (and hopefully beyond).
Wrapping Up
There are so many other amazing things and so many wonderful memories that I witnessed in the Salesforce ecosystem throughout the year. I could probably go on writing and this post would never end.
All in all, 2021 was a busy but very satisfying year and I look forward to continue to do my bit for the Salesforce community in 2022.
Wish you all a Merry Christmas, Happy Holidays & a Happy New Year!